I saw the following sign last night in front of a Giant supermarket here in Baltimore: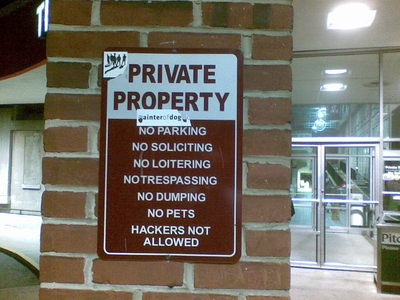 PRIVATE PROPERTY

NO PARKING

NO SOLICITING

NO LOITERING

NO TRESPASSING

NO DUMPING

NO PETS

HACKERS NOT ALLOWED
Hackers not allowed? Huh?
I saw Inglourious Basterds last night. It's a great film telling a neat story. The dialog is excellent and the violence rarely seemed gratuitous (in the sense that it added to the story and the character development, unlike, e.g., in an action film). I highly recommend it.